The main purpose of dive planes, also known as canards, is to shift the aerodynamic balance forward. This dual element dive plane kit we have designed for the Porsche 981 GT4 was specifically designed to increase front-end downforce, increase the high-pressure airflow to the factory intake duct, and to keep drag increase minimal. This kit produces a safe aero balance with or without the addition of our rear diffuser from our analysis. Our dive plane kit will pair nicely with our Carbon Porsche 981 Rear Diffuser, which is currently in the final stages before it will be ready for production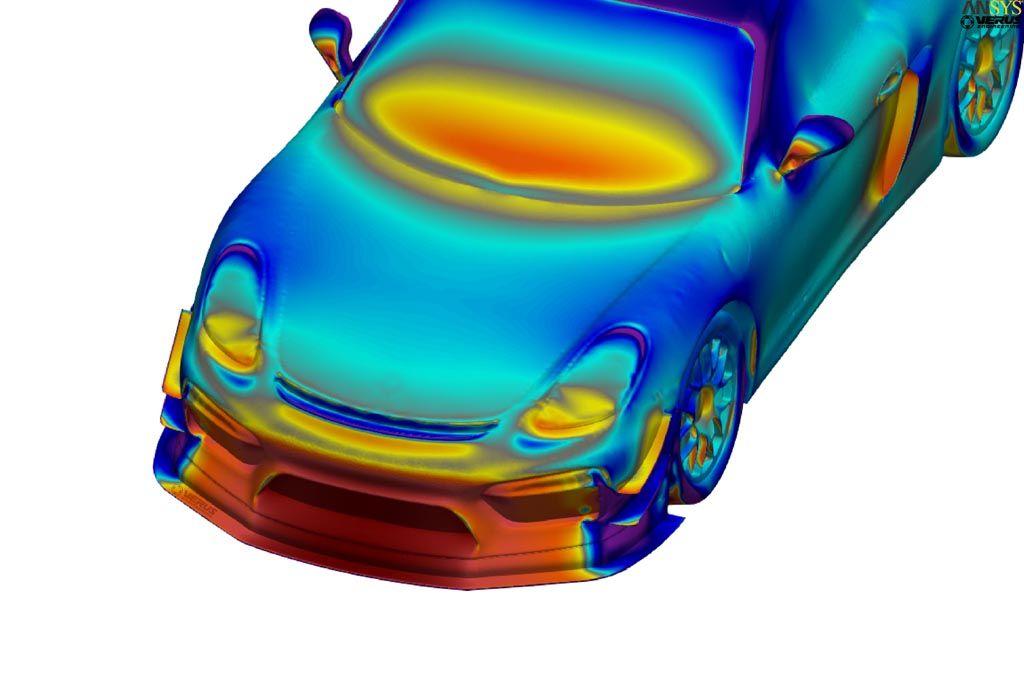 We designed these dive planes in CAD using scan data and then optimized them using CFD within ANSYS Fluent.  ANSYS Fluent is powerful computational fluid dynamics (CFD) software available on the market. Within ANSYS Fluent we can improve the product's function by studying how the dive planes interact with the flow field and pressure.  This software is widely used in Motorsports and racing and helps four out of the top six Formula 1 racing teams.

The dive planes are constructed from 1.5mm thick pre-preg, autoclaved cured, 2x2 twill carbon and are a matte clear finish. Included with the kit are vinyl templates to aid you in placement during install, along with all stainless hardware and high-strength 3M VHB Double Sided Tape that is cut to the specific size of each dive plane.

We supply both stainless hardware and double-sided tape so that you can make the decision as to how you would like to install the units. We STRONGLY advise installing these with the stainless hardware, but we also understand it may be tough for you to think about drilling holes into your brand new Porsche front bumper.