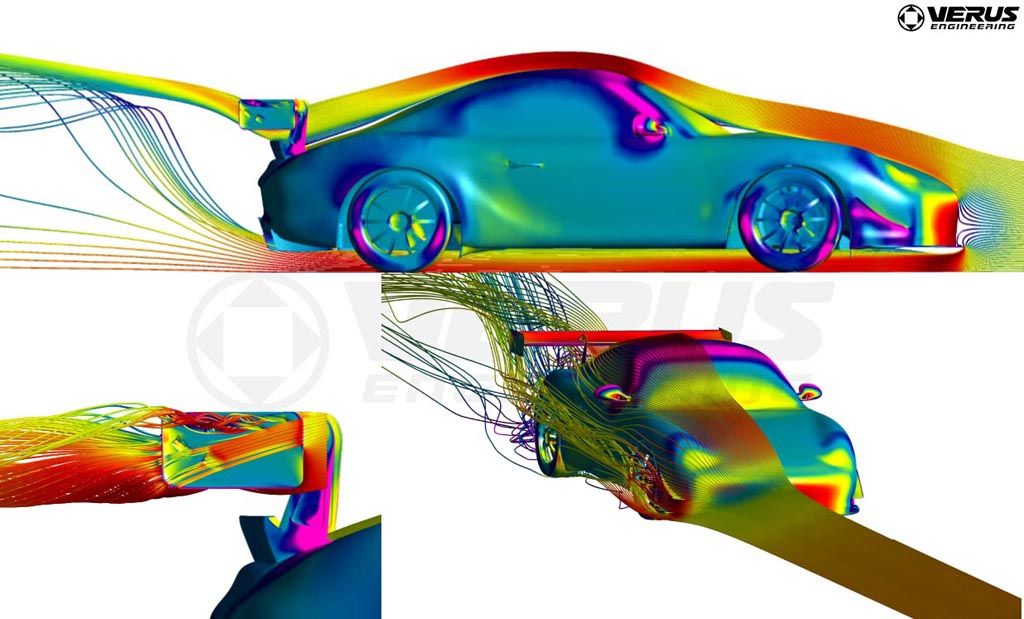 In last week's blog, I dove into our Ventus 2 Aero Package for the Porsche Cayman 981 GT4. This week I wanted to go over the differences between our Ventus Aero Packages for the Porsche Cayman 987. All components for the following aero packages were designed within CAD using in-house scan data and then optimized using CFD within ANSYS Fluent.
Starting things off is our Ventus 1 Aero Package. This package includes our Dive Plane (Canard) Kit, Flat Underbody Panel, and Carbon Rear Diffuser. This kit is compatible with both the 987.1 and 987.2.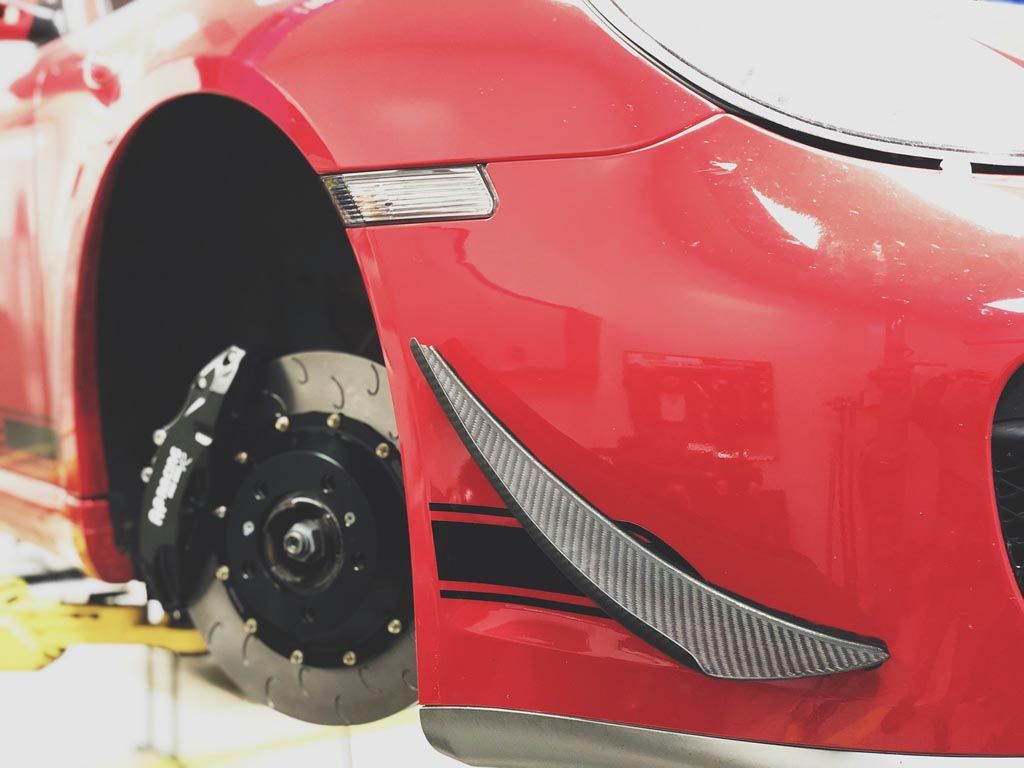 Pictured above is our Dive Plane (Canard) Kit installed on one of our customer's cars. These dive planes are to help tune the aerodynamics balance and shift balance forward without the need for a front splitter. These dive planes are constructed of pre-preg, autoclave cured, carbon fiber, and then finished off using a UV resistant, automotive, matte clear coat.
Through back-to-back testing with our very close friends over at Gear One Performance, we were able to increase corner speeds by 5-6 MPH with the sole addition of these dive planes.  The driver also noted a much more balanced setup and less push in the corners.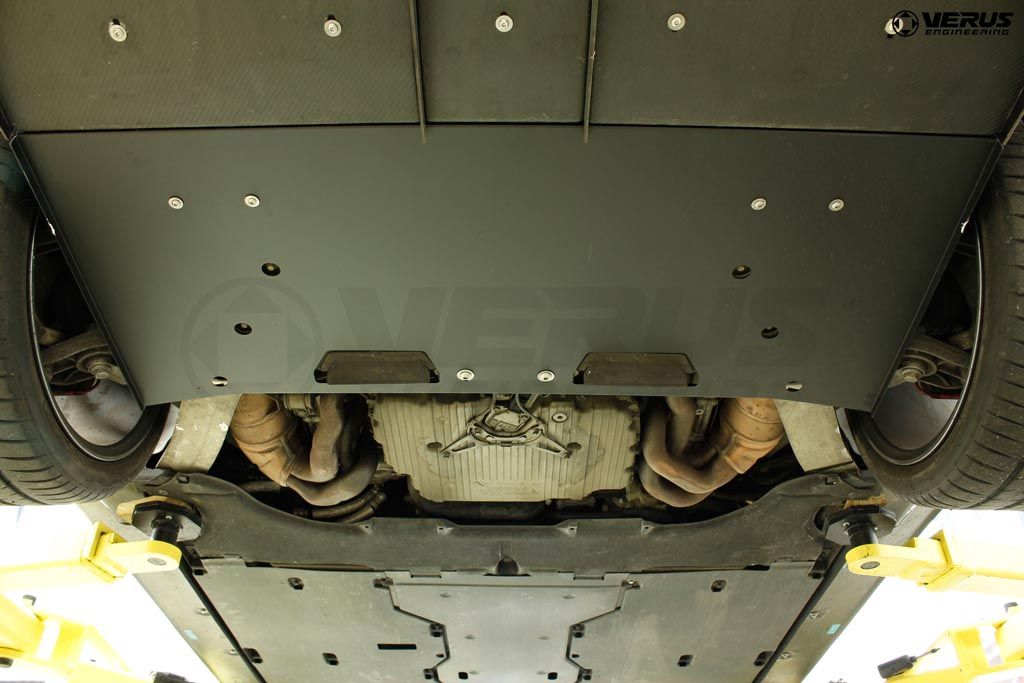 The next component of the Ventus 1 Aero Package is our Flat Underbody Panel. We wanted to finish what Porsche started by filling in the void of the 987's underbody. The middle section of most vehicles creates drag and by covering these turbulent areas with a flat sheet of aluminum we are able to reduce drag. The underbody panel is produced from sheet aluminum and is powder-coated black for durability. This underbody panel can be installed by itself or can be bolted directly to our rear diffuser for improved performance. By installing the flat underbody panel with our rear diffuser you will reduce lift and drag simultaneously.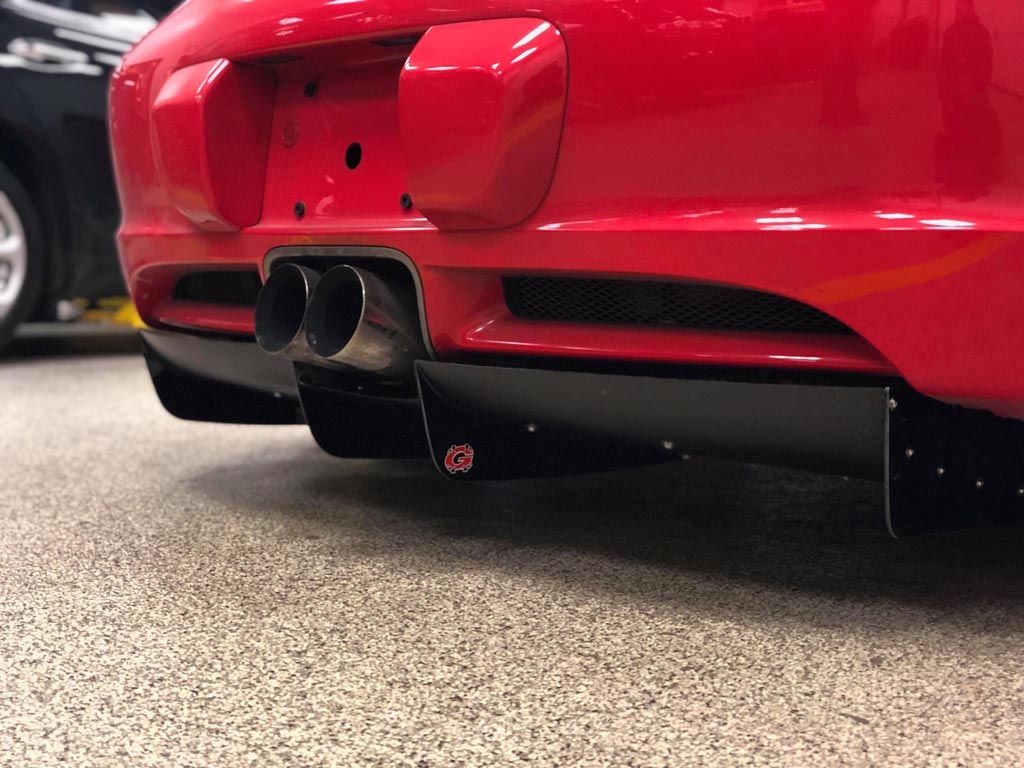 The very last piece of the Ventus 1 Aero Package is our Carbon Rear Diffuser. Adding a rear diffuser is an extremely efficient way of producing downforce when designed properly. In the design phase, we set out to produce a functional rear diffuser for both the Porsche 987.1 and 987.2 using state-of-the-art R&D processes. As mentioned earlier on, we utilized in-house scan data, CAD, and ANSYS Fluent analysis software to design and produce a functional and aesthetically pleasing rear diffuser for this chassis. The diffuser has three main planes that are produced from 2x2 twill, autoclave cured, carbon fiber. The diffuser strakes are made from a durable polyurethane, so after backing into a curb a time or two or a considerable off-track excursion, these strakes can be easily replaced and can be purchased directly through us.
Now for those of you wanting to take it to the next level, we suggest looking into our Ventus 2 Aero Package for a significant increase in downforce production. The Ventus 2 package includes all that of the Ventus 1 package plus our Front Splitter and Air Dam combo paired with our high-downforce Rear Wing Kit for an extremely well balance aerodynamic setup.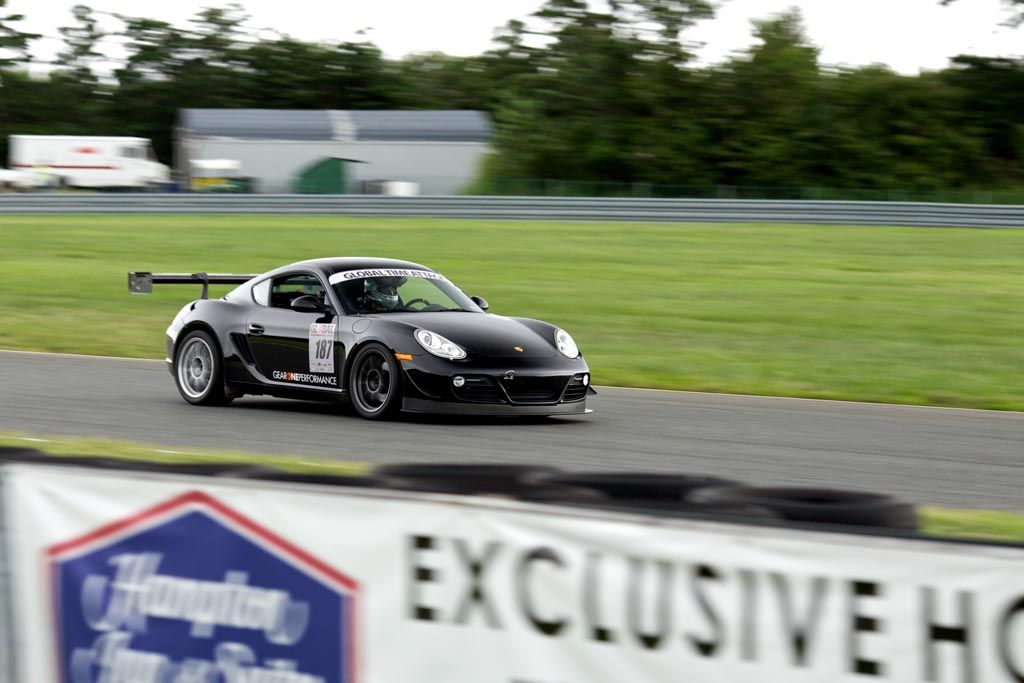 Front splitters are very effective at producing front-end downforce without increasing drag significantly. This is done by creating a large pressure delta between the top and bottom surfaces. Our splitter is constructed from a carbon thermoplastic, which as I mentioned in last week's blog, is the same material used in various forms of Motorsports like Nascar, Indy Car, and even Formula 1. This material is not brittle, so you will not have to worry about issues with cracking as you will see with materials like carbon fiber and ABS.
The air dam is produced from pre-preg carbon fiber and is then cured in an autoclave for reduced weight and improved strength. The air dam is used to bring the splitter flat with the vehicle's underbody and improve performance even further.
Unfortunately, the Front Splitter and Air Dam are currently only 987.2 compatible, but we are in the process of working on a solution for 987.1 owners.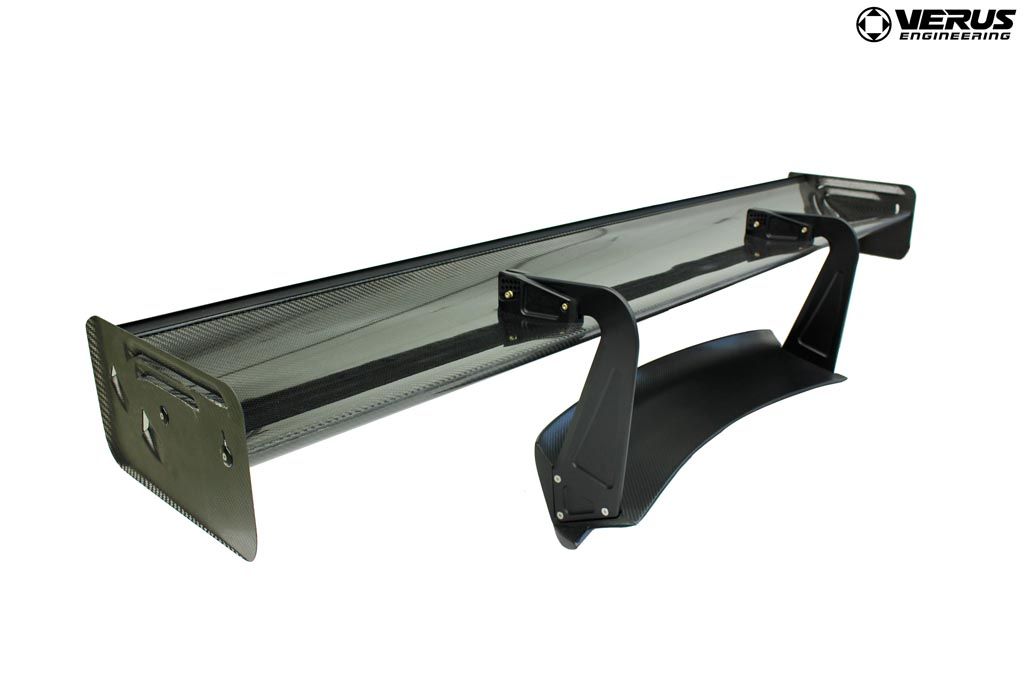 The very last component of the Ventus 2 Aero Package is our Rear Wing Kit. By installing this rear wing kit, you will experience dramatically increased rear-end grip. This is the same airfoil that we use for our Porsche 981 Rear Wing Kit and is also the same airfoil we took to the wind tunnel for testing earlier this year. I will link our wind tunnel video and results at the end of this blog for those of you that want to see the data.
The airfoil itself is our own in-house design and has a 300mm chord at 1800mm in width. PCA members please do not worry as we are planning to offer a PCA compliant rear wing kit as well. The airfoil is produced from 2x2 twill, 3K, pre-preg carbon fiber that is autoclave cured and has carbon inner ribbing for increased strength.
The swan neck style mounting is for improved efficiency from the wing element. The uprights and mounts are CNC machined from 6061-T6 aluminum and were FEA analyzed to ensure strength was kept high while weight was kept to a minimum.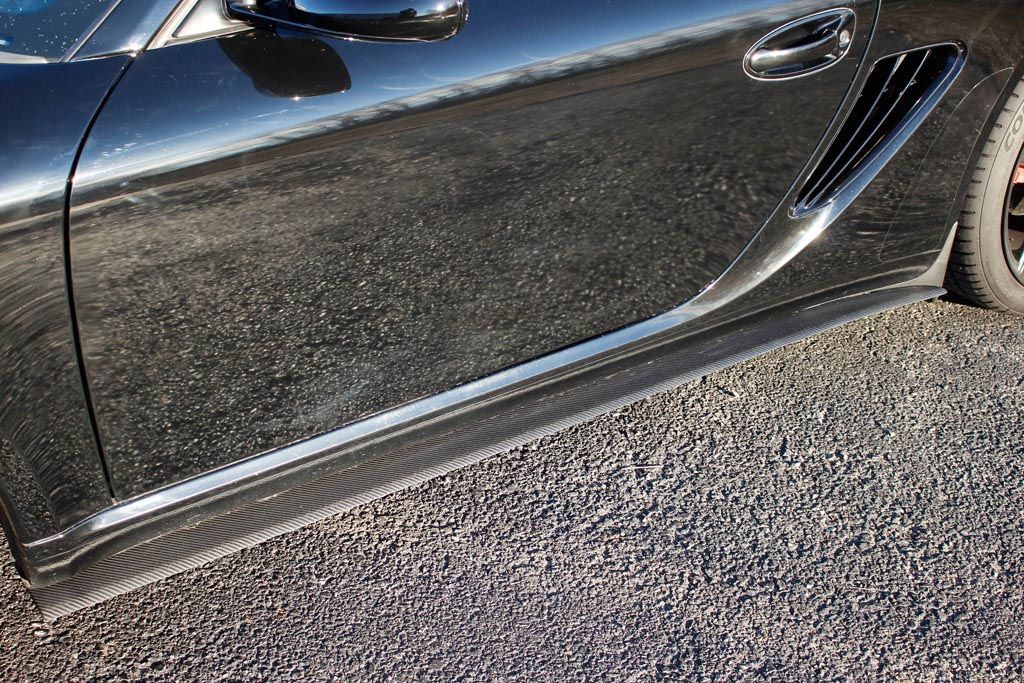 Now on to the Ventus 2+ Aero Package. To polish it all off our friend's over at Gear One Performance wanted us to design a set of functional, yet aesthetically pleasing side splitters for a complete appearance. Our Side Splitter Kit is designed to reduce the amount of high-pressure air making its way to the bottom side of the vehicle. Doing so reduces lift. The side splitters also create a vortex that further reduces high-pressure air making its way under the vehicle. What sets this side-splitter kit apart from others on the market is the fact that is specifically designed to be installed without any permanent modification to the chassis.
All of our Ventus aero packages were designed to enhance the track performance of your Porsche 987 Cayman by providing proven aerodynamic gains. All the components were designed to work together as a system to improve your track times. If one of these kits or any of the components mentioned above piques your interest, please email us at [email protected].
Porsche 987 Cayman Informative Packet