If you drive a Ford Mustang, chances are you frequently think about improving things like speed, handling, and aerodynamics. Here are five top recommendations for aftermarket Mustang parts to boost your car's performance. Incorporate these ideas and watch those track times fall while getting the bonus of a race-inspired ride.
If you want to maximize downforce and improve traction, consider customizing your Mustang with a front splitter. As the name suggests, this performance part splits the air your vehicle encounters as it moves forward. The higher-pressure air goes up and pushes down on the car and splitter, resulting in downforce and traction enhancements, while the lower-pressure, higher-velocity air passes underneath, sucking the car down to the tarmac.
The best Mustang splitter is produced from carbon poly weave, a material known by race teams for its exceptional qualities. It's resistant to cracking and will not bend or grab under the car like aluminum. Lightweight and stiff, it's perfect for splitters.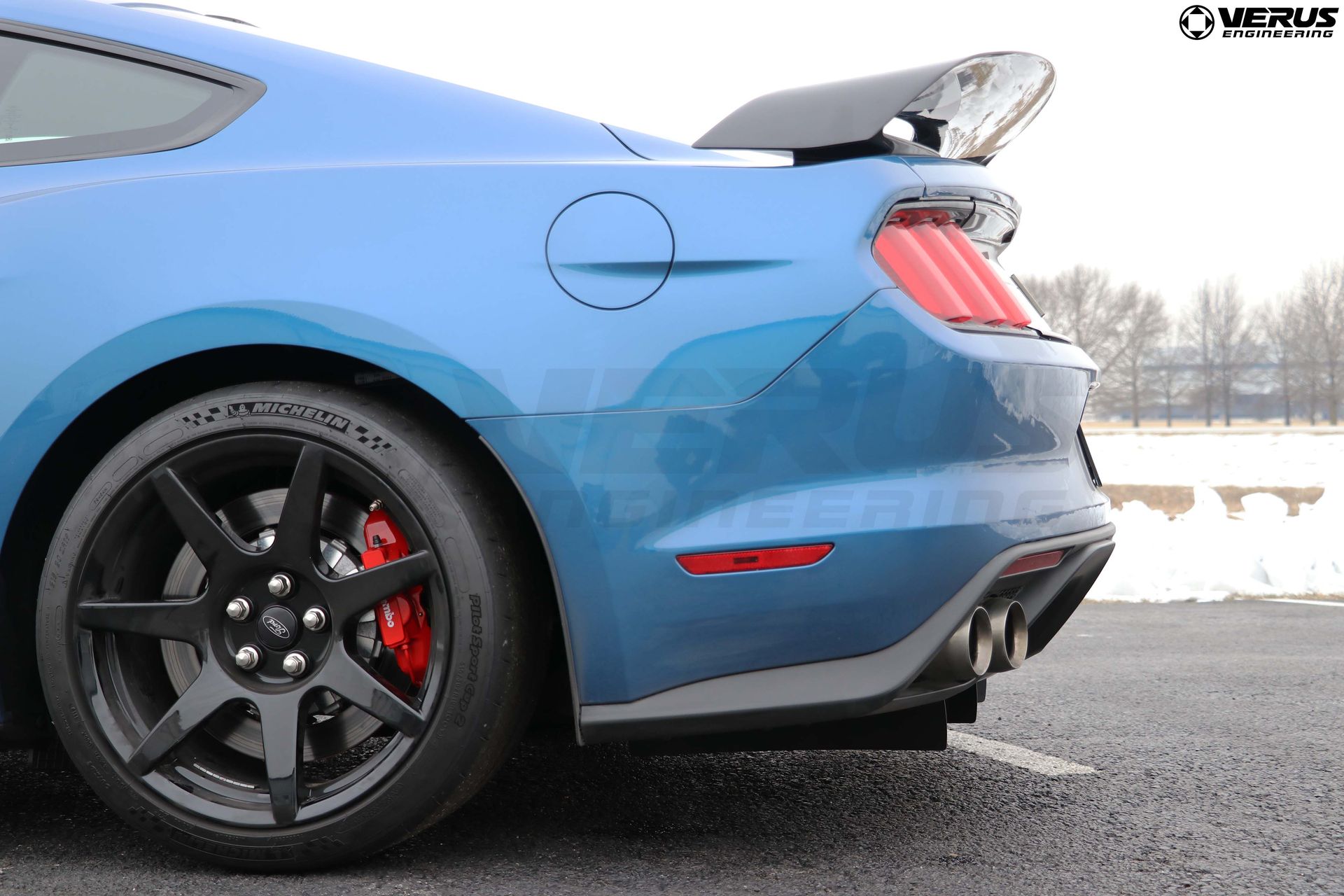 Turn heads and faster laps with a UCW rear wing kit from Verus Engineering.

A truly distinctive Mustang performance part, our UCW rear wing will turn heads while helping you turn faster laps. Complimenting your front splitter, this component dramatically increases handling by balancing out front-end aerodynamics with a rear downforce boost. In addition, our rear wing takes advantage of the holes already present on the original trunk (on GT350R Mustangs), making installation easier. If you are driving a base Mustang or non-350R Shelby, Verus Engineering's rear wing kit includes a drill template.
Factory setups of a Mustang may frustrate you in terms of front grip. Are you looking for a way to balance out a large rear wing or rear diffuser with more front-end downforce? Dive planes can shift your aero balance forward, increasing your front-end downforce and driver confidence. The top aftermarket units will introduce minimal drag, fit your vehicle perfectly, and come with step-by-step instructions for an easy installation.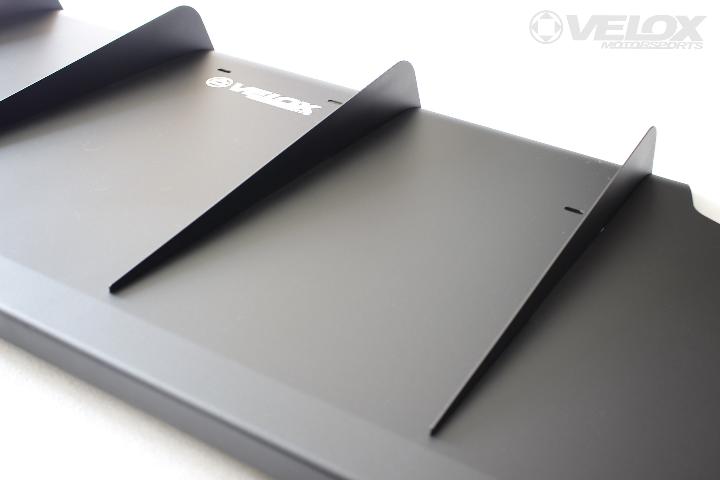 Decrease drag and increase downforce with a Ford Mustang rear ​diffuser.
Getting the right aerodynamic balance is critical in achieving your desired performance, and a well-designed rear diffuser will help make that happen. The diffuser creates a low-pressure zone under the car by accelerating airflow. The result is less drag, increased downforce, better grip, and a pony that will gallop smoothly to the finish line. Using a front splitter and rear diffuser can get a well-proportioned ride and maximize your aerodynamic efficiency. The leading aftermarket options provide a clean look, precision fit, and a simple bolt-on design.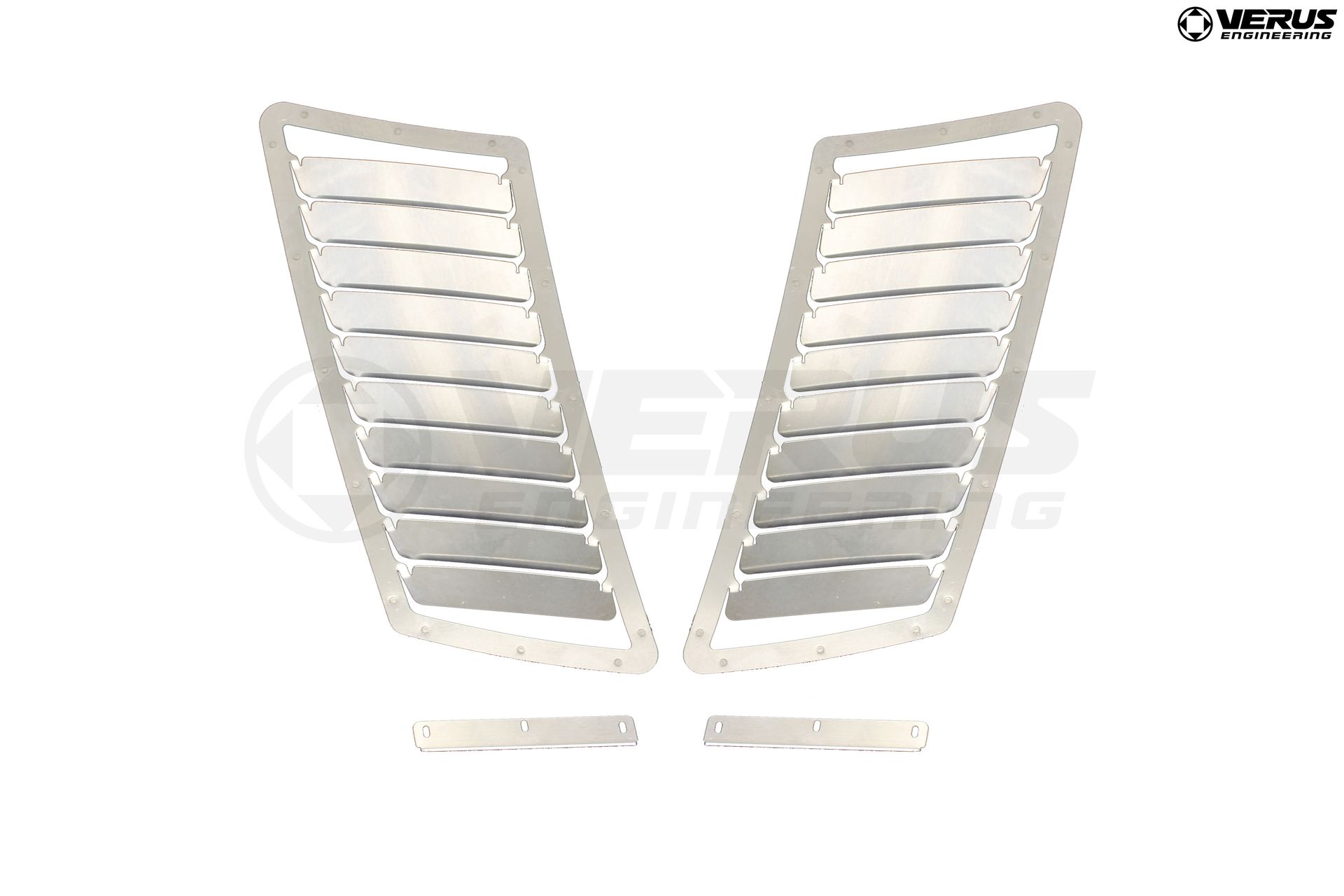 Reduce heat and pressure in your Mustang's engine bay with carefully designed hood louvers.
Would you like your Mustang to run cooler and more efficiently? Properly designed hood louvers will help reduce the heat and pressure under your hood, promoting the longevity of your engine components. You might even get an uptick in front-end downforce. 
Design and placement are critical, so look for carefully engineered and tested units. You should never have to sacrifice the structural integrity of the OEM hood by installing louvers. For added effectiveness, find ones with optional wickers.
Find Mustang Performance Parts From Verus Engineering
A legend in the history of American muscle cars; the Ford Mustang continues to be a favorite among auto enthusiasts. If you want to give your car the highest quality parts, turn to the team at Verus Engineering. Our Mustang parts are designed for performance while blending perfectly with your vehicle's aesthetic. Check out our available parts and contact us if you have any questions.