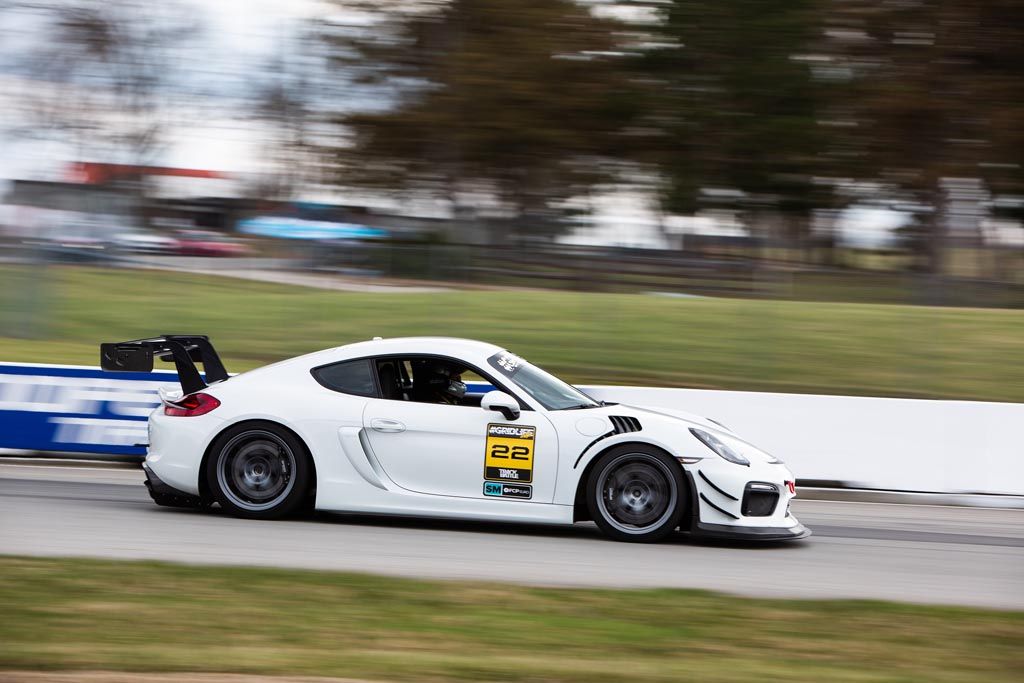 If you are a subscriber to our YouTube channel, you may have seen our video that was released earlier today of Eric giving a quick walkaround of our Porsche 981 GT4 Ventus 2 Aero Package. If are you are not a subscriber, you most likely missed this video, but do not fret as I will be going over this aero package in this blog.

To start, let's talk about why we designed this aero package the way we did. The main purpose of this aero package is to improve the aerodynamic performance over that of a stock car, thus improving speed carried through corners, faster lap times, improved available grip, improved lateral acceleration, and more. This package was designed for the enthusiast who visits the track on a regular basis and wants an effective aerodynamic package that balances the car at speed.

As you may know, you should not throw random aerodynamic components together, and hope they perform correctly. This can cause an upset in balance at speed and this is why we look at aero balance as a whole when creating these packages. All the components in this kit were designed to work together as a package to produce a balanced car on and off the track.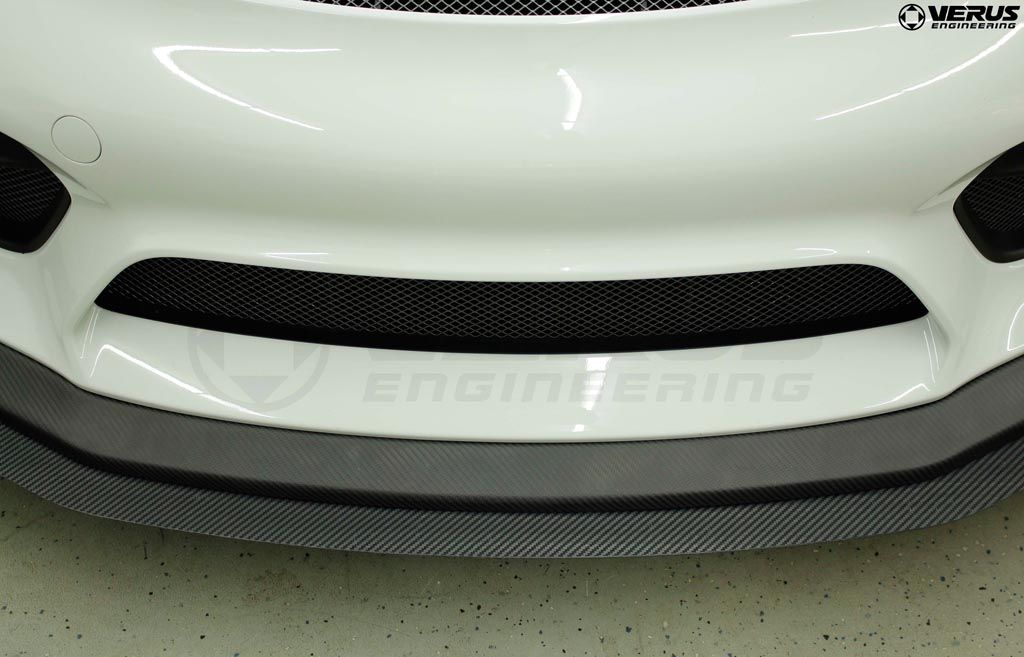 The first component I will be diving into is the Front Splitter. The splitter itself is constructed from a carbon thermoplastic, which is the same material used in various forms of Motorsports like Nascar, Indy Car, and even Formula 1. This material is extremely strong and durable, and will not crack like splitters made from ABS or solely carbon fiber. It will also not grab or bend under the car like aluminum units either.

We wanted to improve upon our design ever further, so we added some design tweaks to the underside of the splitter to improve flow with our carbon front diffusers. These carbon front diffusers can also be purchased individually for use with custom splitter projects.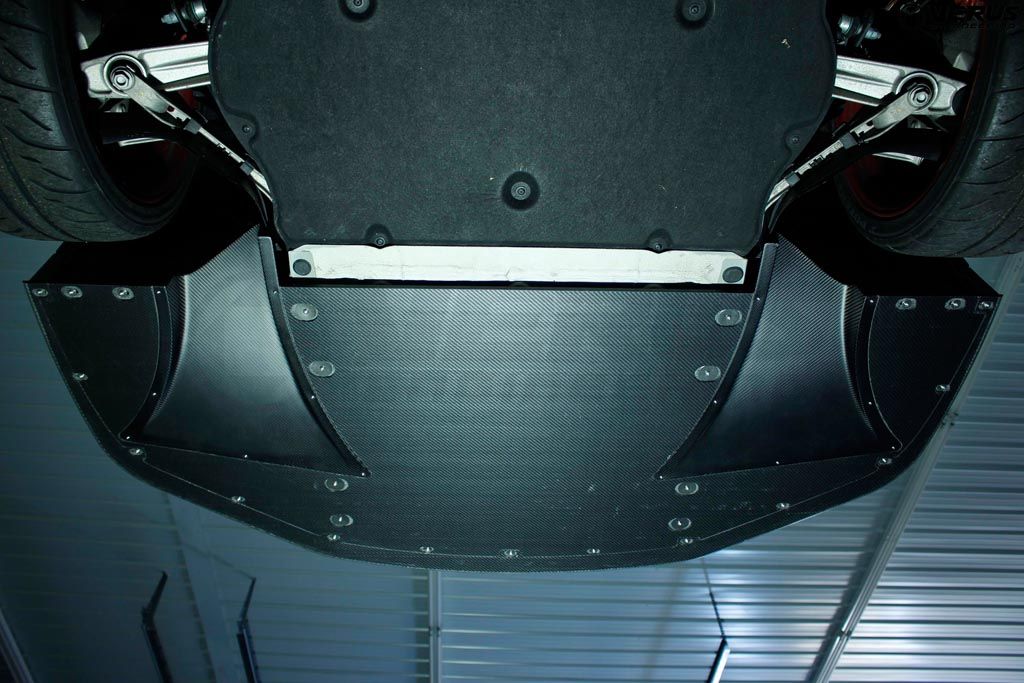 The lip is an add-on piece that can be installed at the track and removed easily and quickly for normal daily driving. This lip is also a replaceable wear item, so in the event, you do need a replacement lip, you will not have to purchase an entirely new splitter blade. The air dam is used to bring the splitter flat with the vehicle's underbody and improve performance even further. The air dam is produced with pre-preg carbon fiber and is cured in an autoclave for reduced weight and improved strength.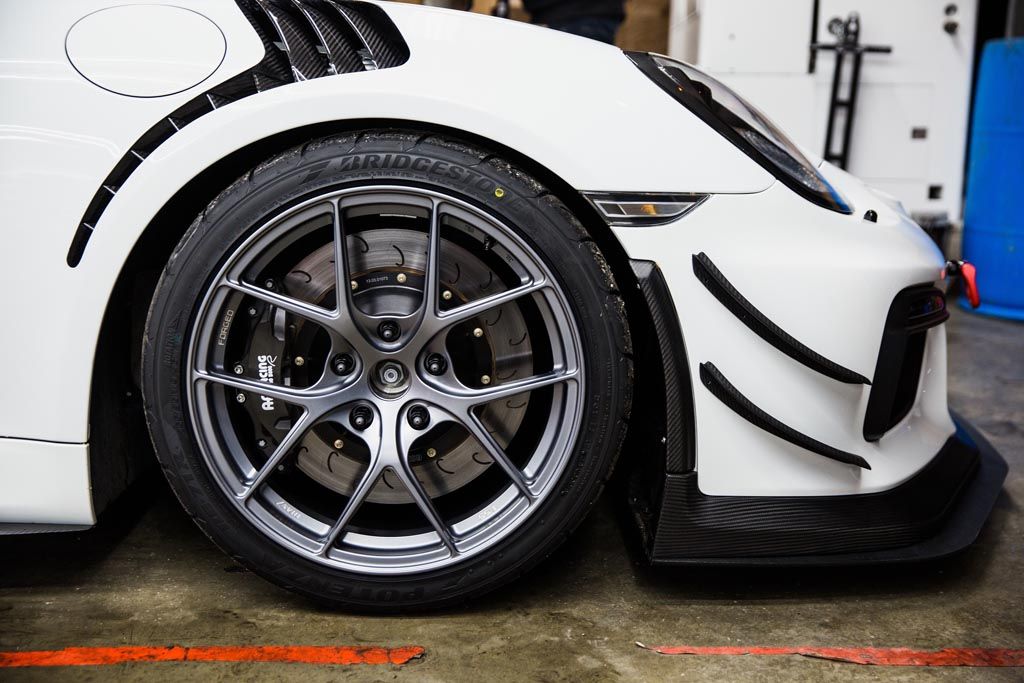 The next component I will be discussing is our Dual-Element Dive Plane (Canard) Kit. We designed this dive plane kit in CAD using in-house scan data and we then optimized our design using CFD within ANSYS Fluent.
The main purpose of dive planes, or canards as some call them, is to help shift the aero balance forward, aiding you and your setup in balancing out a larger rear wing or diffuser. In our case, we took it one step further. Not only does our design increase front-end downforce, it also increases the amount of high-pressure airflow entering the factory intake ducts, all while keeping drag increases to a minimum.
These dive planes can be installed using the supplied 3M VHB Double-Sided Tape, which has been proven at speeds of 160 mph, or the supplied stainless nuts, bolts, and washers. We also include a template for proper placement with every kit, which makes install worry-free.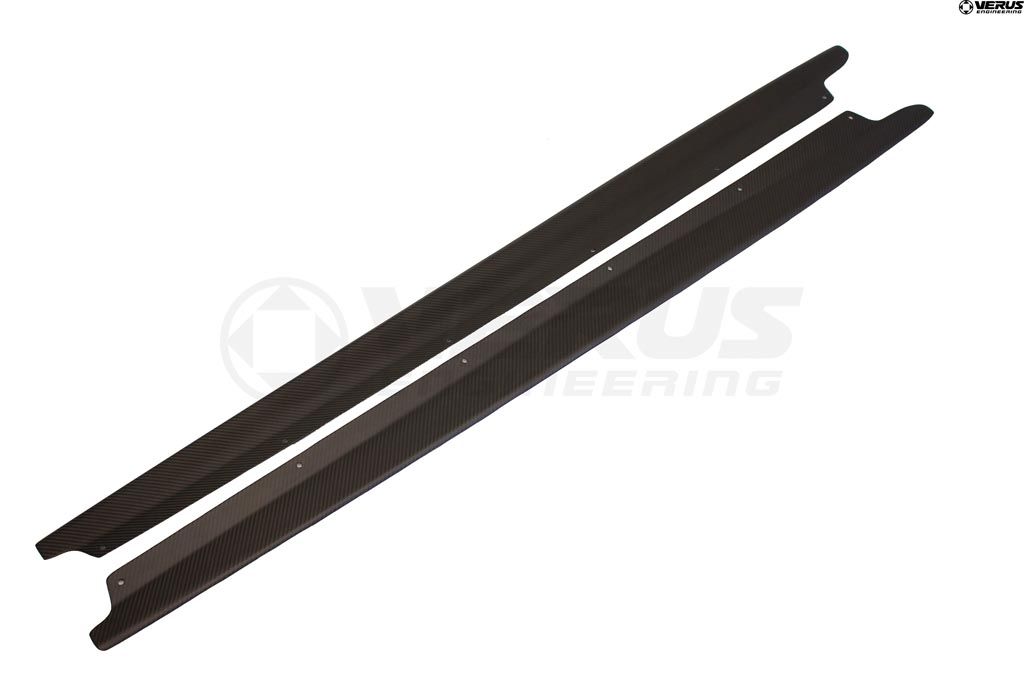 Moving further rearward, we come to our Side Splitters. The side splitters are not included as part of the Ventus 2 package, but I wanted to mention them anyway. These side splitters are made from the same pre-preg carbon fiber as that of the air dam from the front splitter. We designed this side-splitter kit for owners looking for both function and form. By installing a set of these side splitters, you will not only check the box for an improved aesthetic standpoint but also reduce lift at the same time.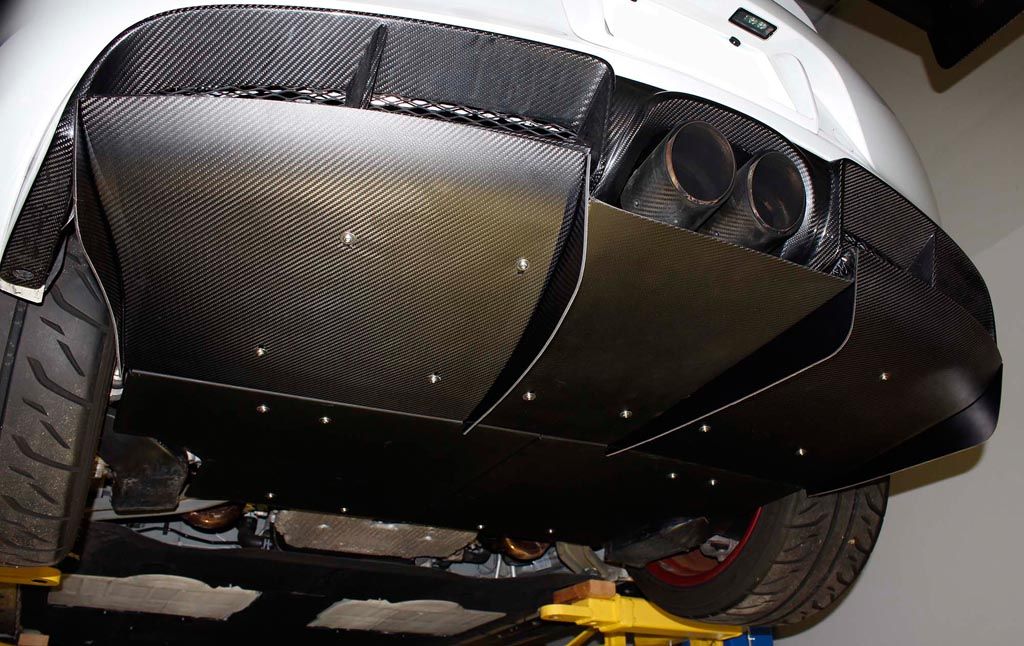 Moving even further rearward, we now arrive at our Flat Underbody Panel and our Carbon Rear Diffuser. As you will notice, the flat underbody panel attaches directly to the rear diffuser for a seamless airflow transition between the two components. This underbody panel can be installed with or without the rear diffuser, but for maximized performance, both components working together are ideal.
The flat underbody panel is constructed of sheet aluminum and is then powder coated black for a clean and durable finish. Pair this underbody panel with our rear diffuser, and you will reduce lift and drag simultaneously.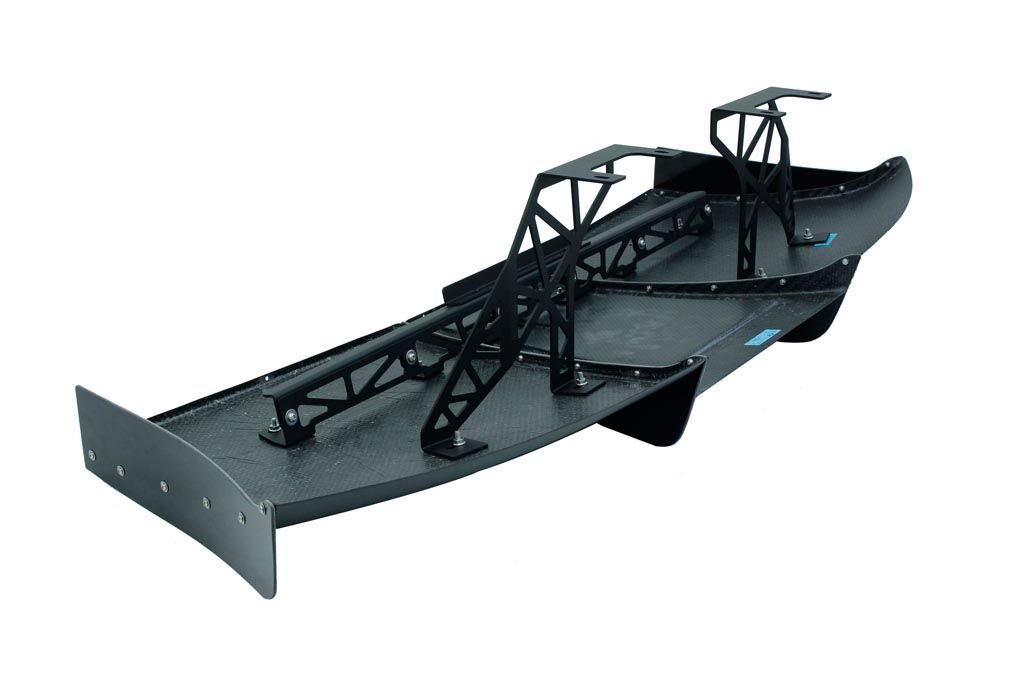 Rear diffusers are extremely efficient a producing downforce when designed properly. Utilizing in-house scan data, CAD, and ANSYS Fluent analysis software, we were able to design and produce a functional and aesthetically pleasing rear diffuser for the 981 platform.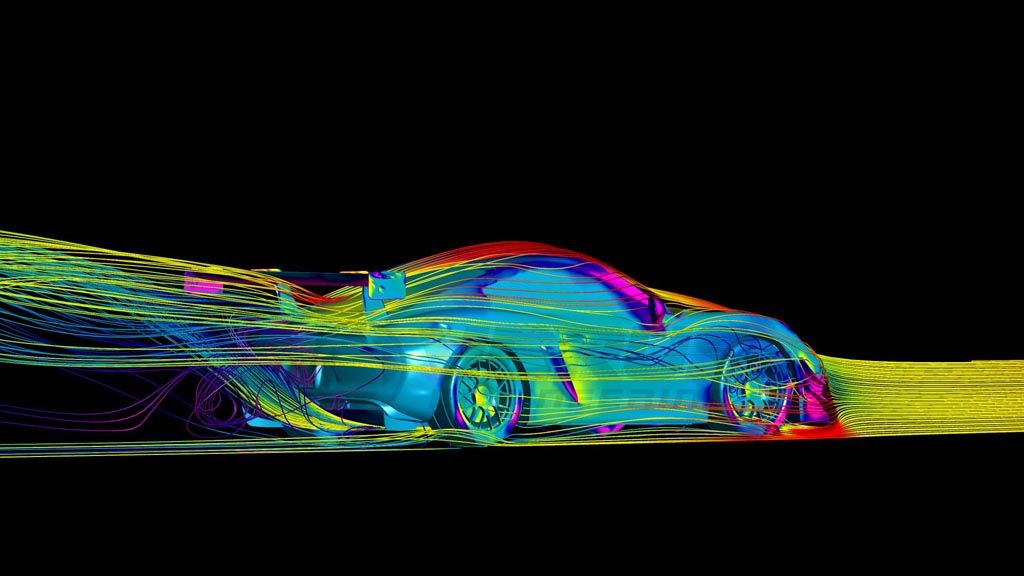 The diffuser has three main planes that are produced from 2x2 twill, autoclave cured, carbon fiber. All brackets are constructed from 5052 aluminum and then powder coated black for durability. The diffuser strakes are made from a durable polyurethane, so after a few off-track incidents or simply scraping the curb a time or two, these strakes can be easily replaced and can be purchased directly through us. Also, something to note is the fact that there is no drilling or fabrication required for the installation of this rear diffuser.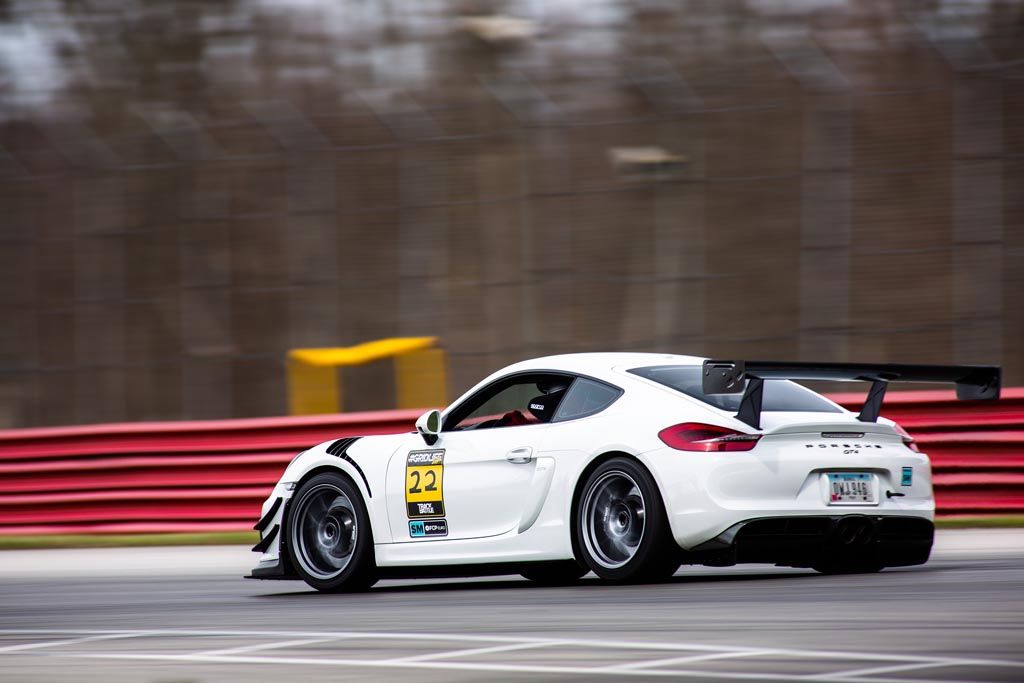 Now to the very last, yet very crucial piece of the puzzle, our Rear Wing Kit. The airfoil itself is our very own design and offers a 300mm chord at 1800mm in width. The airfoil is comprised of 2x2 twill, 3K, pre-preg carbon fiber that is autoclave cured and has carbon inner ribbing for increased strength. The wing itself weighs in at just under 9 pounds, which is an astounding figure due to the sheer size of the rear wing.
We chose a swan neck style mounting for improved efficiency from the wing element. The uprights and mounts are CNC machined from 6061-T6 aluminum and were also FEA analyzed to ensure strength was kept high while weight was minimized. This rear wing installs just like the OEM wing and does not need any permanent modifications to mount to the car.
This wing, along with the rest of this aero kit, was designed in CFD to greatly improve the vehicle's performance around the track. The wing by itself still boasts the ability to dramatically reduce lap times. Through back-to-back testing, we saw a 2.5-second reduction at Thunderhill and 3.3 seconds at Laguna Seca on a relatively stock GT4 at only 4 degrees angle of attack with one of our customers.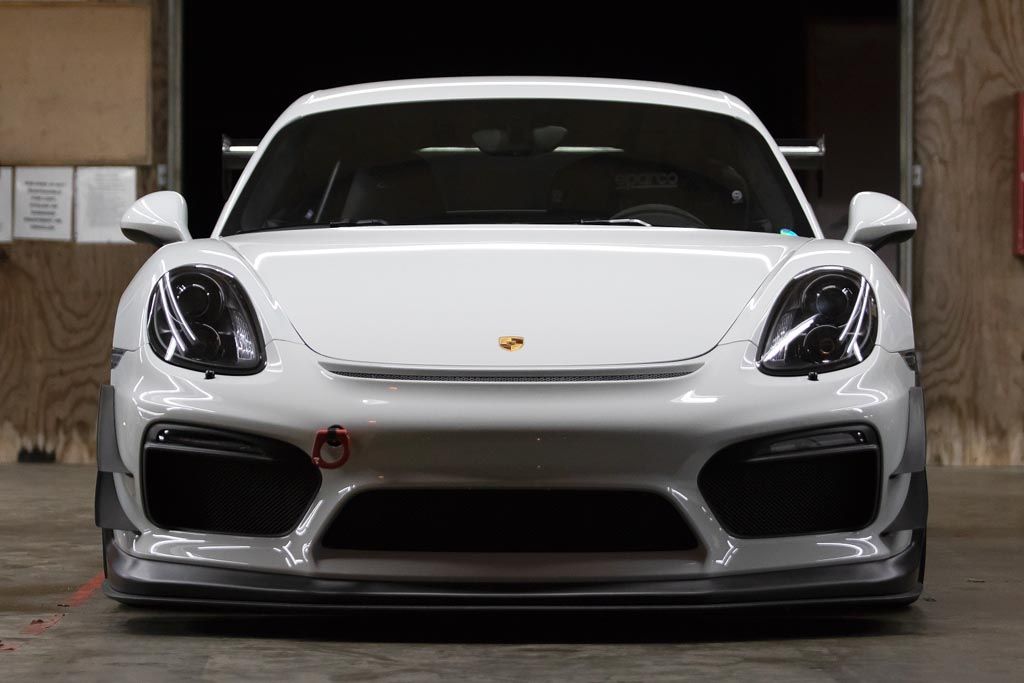 All-in-all, we can say that without a doubt our Ventus 2 Aero Kit produces a significant increase in downforce generated vs. that of the factory car and will reduce lap times substantially. If this kit or any of the components mentioned above piques your interest, please email us at [email protected] as we would love to chat.
If the data is what you are after, click the link below for our informative packet.
Porsche 981 GT4 Informative Packet